As once every year, we met to a club-meeting in Pettenbach. This time there was a very special cause - Berni`s wedding on 22. August.

Therefore the future groom had to let go some funs about himself during the official part of the club-meeting. Klaus and Charly snatched Berni and tied him up with lashing belts at a bank. After this he simply was moved to the wall where he stopped up to the end of the official part.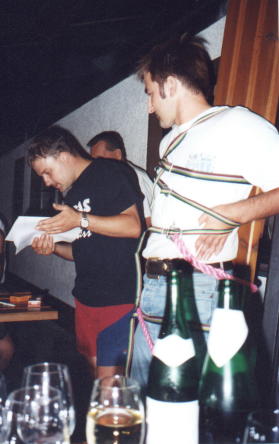 To cool the feelings heated up down, most of us jumped in the pleasantly warm swimming pool before then toward midnight began the return journey to Linz.
Renate Gaisbck